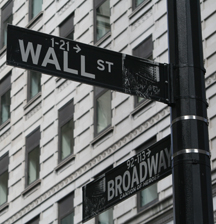 As fall approaches, many business-school graduates will launch careers in finance, on Wall Street, at investment firms, in brokerages, in wealth management, with hedge funds or private-equity firms. Others will start the same by transferring from other companies or careers.

In financial institutions, many MBA's or early-career hires start off in "associate" positions in corporate finance, corporate treasury, trading, or private banking. "Associates" spend 4-5 years refining technical skills, doing deals, preparing pitchbooks, doing research, meeting clients, broadening networks, trading, investing, selling, modelling, and planning the next stages of a long career. In many institutions, they are eventually considered for promotion to vice president.

What are the steps to get to VP? How do associates become managers, get distinguished or noticed--become leaders in the pack?

At many institutions, associates are divided into classes--based on the year they join the firm (or the year they finished b-school). Sometimes there are fairly defined performance expectations (sometimes based on measurable criteria, but often based on subjective assessments).

At the end of each year, they are subject to an exhaustive appraisal process--evaluations, ratings, and rankings. For managers, the process is agonizing, sometimes political, but often necessary for parcelling out bonuses and deciding who has what it takes to become a vice president down the line. For associates, the process may come across as vague, unscientific, impossible to interpret, sometimes unfair.

What can new associates do to distinguish themselves, create a "buzz" about themselves, and get evaluation committees excited about their accomplishments and their prospects ahead?

First, it helps to know in general about the process, know what committees and managers are looking for, know what qualitative characteristics they are looking for, and know what senior person will be your advocate in this process.

Second, it helps not to get bogged down too much about the same process. Do your best, make yourself invaluable, keep learning as much as possible, and be known for being a team player. Avoid being considered "mediocre," "average" (in other words, replaceable).

Third, try to be known or identified as a "top performer." Some of things evaluation committees look for follow.
Top performers:

1) have exceptional energy and "gravitas." They work hard and seldom let up. They don't complain about responsbility and accountability and even welcome it. They are up to the challenge, and they show up all the time,

2) keep up to date on industry issues, banking and finance topics and products, clients' businesses,

3) are consistently regarded by those senior and junior to them as a "go to" person. When there is an urgent client pitch or deal or a major project or research analysis, everybody goes to them to get them involved or to help lead the effort,

4) are self-learners and don't require hand-holding when the material is new or when the project is complex. They grasp new material rapidly and smoothly. They are generally distinguished in quantitative topics. They appreciate theories of finance and economics, but can offer informed critiques, too. They are cerebral in many ways and style. They have innate curiosity to learn, understand and know,

5) are willing to share and help those less experienced. They are regarded as team players and pleasant colleagues to work with,

6) have strong, polished writing skills in memos, presentations, e-mails, and pitches and can produce material quickly (without delay and on time),

7) have expertise in complex financial modeling, not just competence. They are creative and insightful in modeling, as well. They are attentive to and respectful of details. They are intolerable of errors of any kind in presentations or communications to clients,

8) are well-rounded, versatile, not one-sided in talents, and "solid" in most areas,

9) are comfortable in networking internally, comfortable among senior managers, and show signs of having good relationships skills with clients. Although not yet experienced with clients, they already understand what it means to be "client-centric,"

10) are willing to take measured, proper risks in business situations and career management,

11) show leadership potential, are mature, and are confident in the work they produce and assertive in supporting it. Seniors can see them "running a business unit" or "leading a major transaction" one day,

12) have a rational point of view about business situations, investments, transactions, or corporate strategy and express it properly,

13) care about the fundamentals of finance and "block and tackle" (in finance and accounting) without thinking,

14) manage time, projects, workloads, conflicting requests, difficult managers, unnecessary requests and growing responsibility efficiently and adroitly.

15) while attentive to detail, understand the "big picture" in projects, client relationships, and deals,
16) get involved in corporate "extracurriculars": b-school recruiting, corporate charities, mentor programs, and diversity initiatives (like the Consortium, Inroads, SEO and MLT)

No associate, of course, has the time, endurance or capacity to perfect all of the above. Associates also have other priorities (family, health and hobbies, for example) that deserve attention.
But it certainly helps to know what the scorecard might be. And it helps to assess yourself periodically, especially when managers and seniors will not always provide prompt feedback or provide it fairly.

The process can be more subjective than objective and associates should be aware of that. Associates, thus, should focus on what they can influence. They should know there are some things they can do now to help shape the "buzz" that's created about them.

Tracy Williams